Welcome to the Remit And Collect Solution of Monvenience, an unique IBAN solution that lets you collect and remit funds to your customers accounts seamlessly, with easy account tracking and optional automation.
Very useful for any payout sites, like licensed gaming, ecommerce, airlines, computer games, digital content, advertising payouts, licensed forex, financial and currency exchanges and institutions, card issuers etc.
Incoming Payments - How it works
First you sign up for a business account in Monvenience. Upon successful KYB, and payment of requisite charges, you apply for a special remit-n-collection account. As soon as you are offered the account, you get set of APIs, by which you can allocate unique IBANs to each of your customers. When customers put money to their IBAN, it comes straight to your corporate IBAN, along with all the customer details.
Easy receipt of payments-easy accounting for payments!
---
Why Monvenience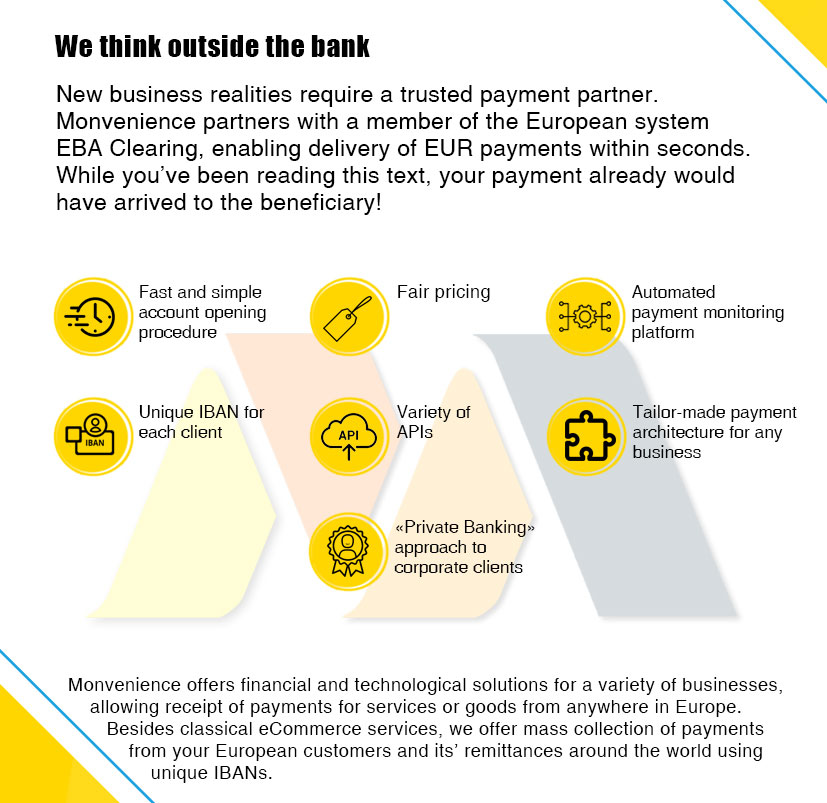 ---
Privileges for IBAN Collect users
Instant collection of funds
More and more banks in Europe are joining pan-European instant payments system, enabling money to be delivered to your account within seconds.
Low commissions
IBAN COLLECT is significantly cheaper compared to Visa/MasterCard payments.
No chargebacks
Requesting a chargeback after execution of a bank transfer is problematic.
No intermediaries
Being a SEPA member, we enable direct payment reconciliation between the sender and our client.
Recurrent payments
SEPA Direct Debit - ideal instrument to charge recurrent payments from your customers.
Simple reconciliation
Unique IBAN for each of your customers makes accounting simpler than ever before.
Other options for money collections
Monvenience and its partner are a leading provider of multi-channel payment solutions with over 100 payment methods and 34 transaction currencies, giving customers around the globe the payment methods they know and trust. We collect payments through international cards, Western Union, more than 50 eWallets worldwide.
---
Outgoing Payments - How it works
IBAN Remit
IBAN Remit is a cutting edge money remittance solution for instant domestic and international settlements. We are a full service global payment provider integrated with a large number of local payment providers, enabling quick payouts in local currencies. With SEPA EUR payments, we enable our clients to execute instant money remittance using unique IBANs.
IBAN remit can be used by different types of businesses like financial institutions, card issuers, wallet providers, payroll management ( salaries, commissions, bonuses, rewards etc.), suppliers and vendor payments, international traders, incorporation agents, freelancers, licensed gaming sites, currency exchanges, etc.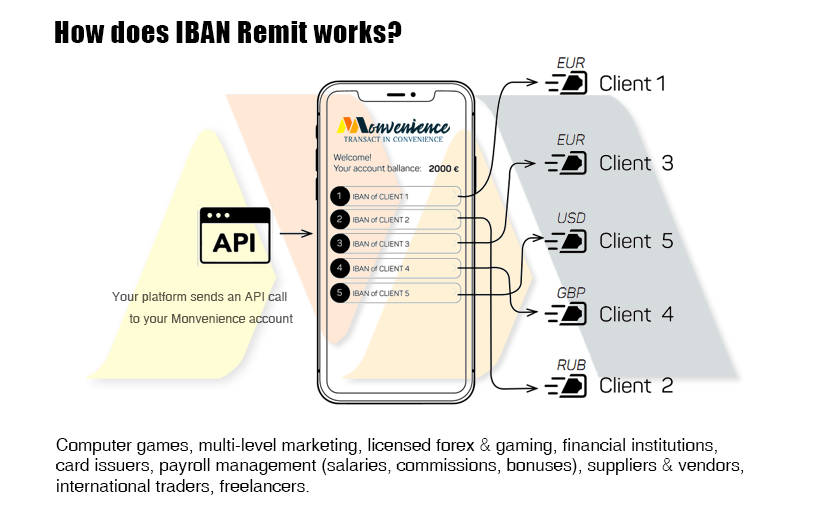 ---
Privileges for IBAN REMIT users
Instant remittance of funds
We settle Euro payments within seconds. We also do express same-day pay-outs in local currencies around the world.
No intermediaries
We enable direct payment reconciliation between our client and the beneficiary of transaction.
Low commissions
IBAN REMIT is significantly cheaper in comparison with SWIFT transactions or OCT.
Simple payment process
Our APIs reduce to zero the workload and time spent on the processing of pay-outs.
SEPA Direct Debit
SEPA Direct Debit - ideal instrument for recurrent payments.
Pay-outs with unique IBANs
Financial institutions can enable their clients to send funds using unique IBANs under their names.
Other options for money remittance
Monvenience is a one-stop provider for global money remittance services, offering fast payments in 34 local currencies. We empower customers around the globe to use payment methods they know and trust. We remit payments using card-to card payments (OCT), Western Union, as well as more as over 100 eWallets around the world.
---
How do you get your account?
As soon as your KYB is done, and your IBAN account is active, just request for a special Remit-n-Collect account.
Citizens of some countries are not eligible to signup for our service. Check your eligibility below:
Select Country of Citizenship