Basics
Monvenience brings international wire transfers into the 21st century with IBAN and Non Resident bank accounts. It is now possible for your business to have a non resident bank account in Europe for free. With a IBAN and Non Resident bank account you can accept payments from 35 EU countries. We route your money to your account in your home country the same day - in most markets - with 80% savings in fees.
Monvenience brings you a unique proposition. To have European IBAN and Non Resident accounts, that will have all banking remittance functions, for residents, as well as non residents to Europe. With this IBAN and Non Resident bank account or payments account, you can transact at the convenience of online. You can send and receive payments, by SEPA as well as by SWIFT. Moreover, you can also transact in multiple currencies.
Monvenience IBAN and Non Resident account addresses a variety of problems. To begin with, individuals and businesses from other countries can also have European IBAN and Non Resident accounts, even without incorporating in Europe, or having an Europe address. So, now, even a business incorporated and run in a country like India or Canada, can have an European IBAN and Non Resident account for their use.
For international companies, international banking is time consuming, involves quite a bit of paperwork in the home country, and sending payments outside the country often becomes difficult. It is also expensive, and can be frustrating as well, when you cannot move your own money at your will. But, with a no limit, non resident IBAN and Non Resident payments account in Europe, all that is set to change. You can receive money in Europe and keep it there, spend from it, and bring back the required funds back to your home country. All in lightening fast speed, and low bank charges, saving you anywhere between 5% to 10%. The following diagram will give you a clear idea on this: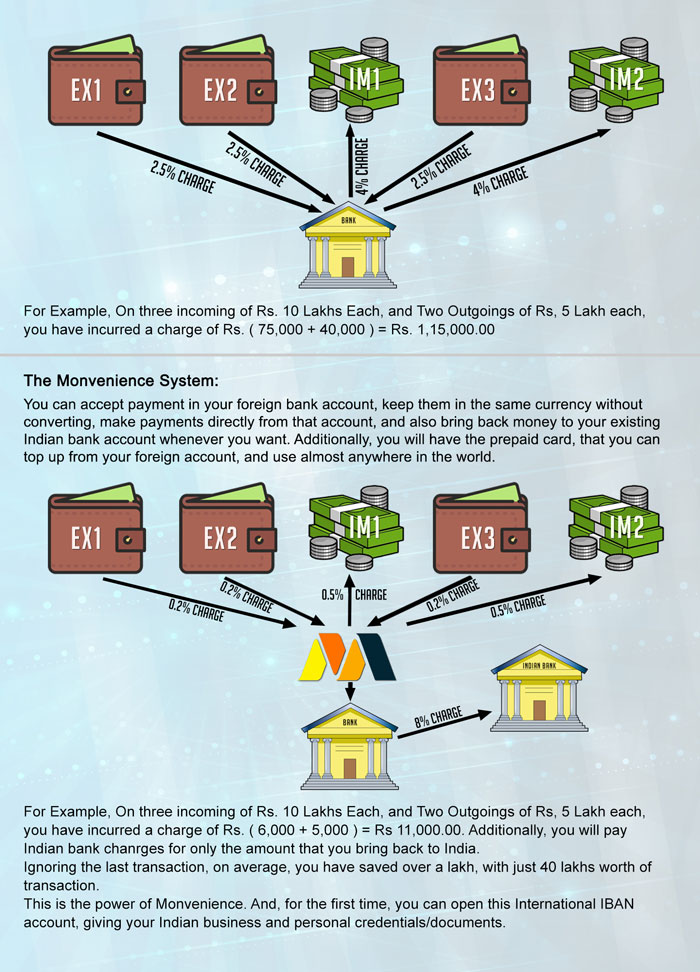 You also get the best currency conversion rates, as we operate on mid market conversion rates, or very close to it, as you see on google. Additionally, you can access the EU payment gateways, and collect your payments from marketplaces like Amazon.
It is for businesses of every size:
An exporter of Bhutan may not have the volumes to set up subsidiaries overseas or apply for non resident bank account of an European bank. A startup incorporated in Estonia or Ireland may lack the resources to travel frequently, appear for bank interviews, take functional addresses and get a bank account, which may be expensive as well. A large diamond exporter may not have the inclination to incorporate abroad, just to get a no limit bank account in Europe, though he knows that it will give him flexibility and save charges, as, wire transfers are expensive and comes with inevitable delays.
Banks are very restrictive in their terms and policies for non-EU companies. Frequently they will ask for some kind of local address proof or utility bill. They often require large sums to be kept as deposits, charge higher rates, and force more products like insurance on the clients.
With Monvenience no limit IBAN and Non Resident account, all these kind of businesses can get their online IBAN and Non Resident account in Europe, which then can use as their bank account, furnishing their home country credentials only. Thus, everyone is on an equal footing.
Personal IBAN and Non Resident accounts at Monvenience
You can also have a personal IBAN and Non Resident account at Monvenience, which gives you all the remittance services, with a dedicated IBAN and Non Resident. These accounts are no limit accounts as well. If you have a EU or UK passport, then you get the personal account FREE. If you are a non EU resident, then also you can avail the same account, but with a small charge. Check our homepage for more details.
What it is like to have a Monvenience IBAN and Non Resident Account in Europe?
You get the same banking service of receipts, storage and payments function, at a fraction of a cost, and without any complexities. At Monvenience, it is transact in Convenience. You can also opt for a prepaid card and load it with you Monvenience IBAN and Non Resident account balance.
What is a IBAN and Non Resident bank?
A IBAN and Non Resident bank is a bank without the problem. It implies that - as a rule - your business can get a record set up in no time flat with a basic telephone call. You don't need to clear time in your calendar to visit the bank office, no administrative work to sign. With a IBAN and Non Resident bank you get a sheltered foundation for secure exchanges, directed similarly an ordinary bank is. A similar EU standards and guidelines apply, so your assets are sheltered. Another preferred position is that IBAN and Non Resident banks work with various financial systems at the same time which means you numerous banks working for you in one. The best the universe of banking brings to the table today is a IBAN and Non Resident Bank Account with a free IBAN and Non Resident IBAN and Non Resident.
Security: picking safe IBAN and Non Resident financial accomplices is significant. Notwithstanding, of course, IBAN and Non Resident banks are a more secure elective gratitude to present day innovation.
Better rates: in view of a lean way to deal with business, IBAN and Non Resident banks are considerably more reasonable to work and accordingly can offer beneath normal rates to all financial administrations.
Portability: spryness is key both in business and in our own lives. The way that with a IBAN and Non Resident bank you can open a ledger in minutes rather than hours and the way that you can move cash internationally from your cell phone are instances of the upsides of IBAN and Non Resident banks against their customary partners.
Bank connections: every IBAN and Non Resident bank work over conventional financial framework since they are the main ones - typically - permitted to do as such. This implies the capacity to make ledgers is a vigorously directed issue and accordingly it takes a long time to pick up influence to be completely autonomous. However, the innovation is free and along these lines the activities are a long ways ahead regarding pace, security and simplicity.
Exchange issues: being manual issues, a ton of the universe of banking we became used to is just inclined to human mistake. Advanced innovation penetrates the IBAN and Non Resident financial industry: from onboarding to filtering your IDs, from confirming credit to computerizing cash transformation, it is altogether mechanized for comfort and cost investment funds.
Better administration: since all the exhausting and humble errands are robotized, IBAN and Non Resident banks are better ready to help you. It is that straightforward.
Across the Globe
One account from Monvenience, and you can transact business across the globe with your account. You can transact in multiple currencies, across America, Europe, Asia and Australia, move money across geographies, and all in great efficiency and rates.
Click here to sign up for your Online European IBAN and Non Resident Bank Account